P*erago (Perago) rotating blaster discs will clean and remove rust, layers of oxide, cinder and paint from all types of iron, metal, plastic, stone and concrete surfaces.  The results will be a surface with a quality comparable to the one achieved with ordinary blasting methods according to an extensive function test performed by the Swedish Royal Technical University.  Since no heat is produced, the tool will never get clogged by old paint.
Cirrus Systems Ltd is a distributor for the Fein tool for use with the Perago Multi Rotating Blaster Disc.
Examples of Applications
Real Estate
PERAGO is a highly convenient tool for repairing cracked foundations, riveted or plater covered facades and for hoeing after founding etc. Since glue residue will not adhere to the PERAGO, it is well suited for cleaning old glued joints and surfaces, painted concrete floors, stairs, cement joints and removing old cement and plaster from brick and tile etc. Furthermore, the PERAGO is an excellent tool for removing asphalt and tar products.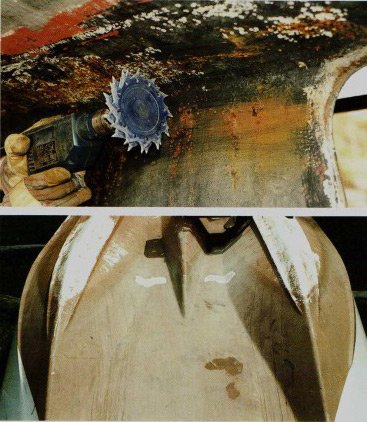 Cars
The Perago Rotating Blaster Disc
The PERAGO rotating blaster disc is a fantastic tool for maintenance and repairs on cars. The first evidence of rust is a blister in the paint.  This early warning tells you that, underneath, the oxide is running amok. You will halt further deterioration with a PERAGO rotating blaster disc. Just open the blister, use the PERAGO rotating blaster disc on the rusty spot until it shows no remaining presence of rust. Immediately seal the metal-clean surface with a good anti-rust primer, plaster and paint.
Use the PERAGO rotating blaster disc to easily remove the sticky and highly flammable old petroleum based body-coating before doing welding jobs on under carriages, kick panels etc. Do not attempt to remove it with any kind of open flame! The flexibility of the PERAGO rotating blaster disc will allow you to easily remove rust and paint from every nook and corner of your car, such as fenders, wheel-housings, kick-panels, door-sides, beams, welding joints, hinges etc.
Boats and Ships
USE OF ROTATING BLASTER DISCS ON BOATS
Anyone who has tried to clean a keel knows how troublesome it can be to remove rust, oxides and other coatings without a blaster. Even with a blaster, you may risk damaging adjacent boats. The PERAGO rotating blaster disc can quickly give you a satisfactory result without endangering adjacent boats or using compressed air. For repairing plastic hulls, the PERAGO rotating blaster disc is indispensable, as it removed damaged gel coating so effectively that the glass-fibres are exposed, which provides an excellent ground for the mending material.   Do not use a polishing disc, however, as the friction heat will melt the plastic. The PERAGO rotating blaster disc produces no heat and a minimum of sparks, which is why it is suitable for use in confined spaces, for removing old paint and rust on hulls and for preventive maintenance.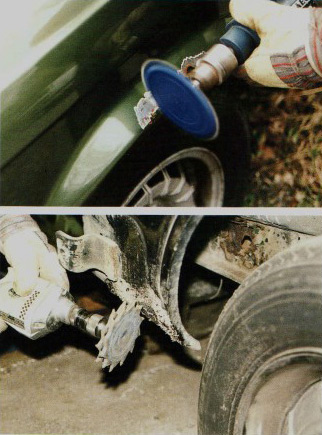 Repair Shops
The PERAGO rotating blaster disc works as a blast, a result which is fully comparable to a sand-blasted surface will be obtained. It comes in very handy when doing welding jobs, where it can be used to clean joints to avoid confining slag, to remove scoria from hot-rolled material and for all repairs where a clean surface is necessary. You will find PERAGO rotating blaster disc to be superior when it comes to the removal of all kinds of protective coatings, even asphalt.